Four delicious menus
genuineness, lightness, variety and quality are the characteristics of our cuisine
Every day meat menu, fish menu, vegetarian menu and others exquisite and simple courses.
All accompanied by our buffet with appetizers with cooked and raw vegetables!
For a delicious end of a meal, try homemade desserts or a nice plate of seasonal fruit.
At the hotel D'Annunzio, we know how to spoil any palate!
A delicious, light and genuine cuisine made of the most refined flavors: every course is unique for its variety, abundance and qualities of the utilized ingredients.
Sweet and savory Breakfast buffet, all the scent of our good morning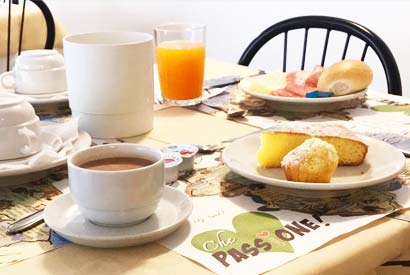 Every morning, when you wake up, you will find our sweet and savory breakfast buffet.
Fall in love with the fragrance of our homemade sweeties: cakes, plum cakes, Bundt cake, croissants and pies with creams for all tastes.
A wide selection of yogurt and jams, cornflakes, muesli, butter, honey, chocolate cream, coffee and juices.
And there will also be served savoury bread, salami, ham and cheese!
For the children: BABY MEAL D'ANNUNZIO
Menu designed by our young guests and chef Gianni, with a first and second rotation every day balanced and balanced.
For the smallest vegetable pastas and fresh soups every day.
Our chef uses every day the best ingredients, fresh and genuine, selects all the raw materials accurately and knows how to bring out the taste of each typical dish of the territory.